Text: Susi Krix / Translation: Ingrid Händel
Home Free – the first a capella country band – were already guests in the UK and Austria, but they hadn't made it to Germany yet.
Until now … last week Home Free started their European tour in Oslo/ Norway and they were already in Hamburg before they went to Munich on September 4th. On Wednesday they were guests in Berlin and next week, on September 10th the vocal band will go to Cologne. If you don't / didn't have a ticket for the sold out shows, you really missed out. You can say that.
Home Free was founded 18 years ago by beatboxer Adam Rupp and his brother. Many members came and went. In the current formation the band exists since the middle of 2016.
In 2013 they took part in a competition for a cappella groups and won it. Since then, Home Free has been growing steadily.
Very quickly after the tour dates in Germany came out, the concerts were sold out – as expected.
The Munich Technikum, where some Country Live Acts, like Clare Bowen and The Cadillac Three – among others – already performed, surprised us with seating this time. So it was to be assumed that it would be a rather dignified concert …
Right on time at 8 pm the support Jeffrey East entered the stage with his guitar.
The songwriter reminded of Cody Jinks in the first moment with his looong beard – who else has such a beauty in his face? ? ?
Good-looking, likeable, talented, entertaining – a perfect mixture and that proved to be the case. Jeffrey put the audience in the right mood for a wonderful evening, they sang and celebrated and listened to his 30-minute set.

It's always a shame to experience good musicians only for such a short time.
Maybe he'll come back – it wouldn't be just us who would be happy, because the likeable singer has gained some new fans this evening.
After a short break the lights went out and "Cotton Eye Joe" played – and finally Home Free entered the stage and performed "Life is a Highway", followed by the song with which they made their breakthrough: "Ring of Fire".
The thought that this concert evening would be a dignified one was completely wrong – already with the first songs the fans rose from the seats and celebrated their band on stage. It didn't take much work by lead singer Tim Foust to enthuse the audience for himself and his band colleagues.
When asked if they had ever experienced the band live, about half of the fans, some of whom had travelled a long way, answered "yes". The fans came not only from Germany, but also from Italy or Switzerland to experience the a cappella group live. Those who weren't die-hard fans yet, were at the latest at the end of this concert – or let's rather call it a show.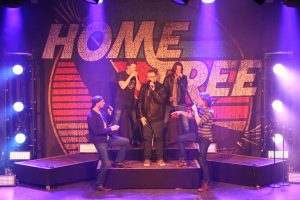 A perfectly coordinated choreography of all musicians – great hits interpreted excellently – entertaining the audience with their voices, this package is unique in the field of country music.
No instruments are required, the vocal power of the musicians, above all Tim Foust with his vocal range of five octaves and Austin Brown, who shines especially with high notes, are perfectly sufficient. Rob Lundquist and Adam Chance round it off with their wonderful vocals and beatboxer Adam Rupp adds the rest. The only "instrument" at the show is a looper, where the quintet shows during the Ed Sheeran song "Castle on the Hill" what you can do with it.
Yes, Home Free can even present big pop hits in their own style.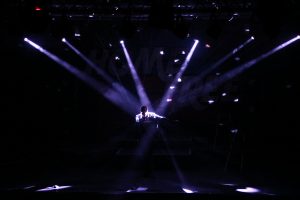 Adam Rupp's ten-minute solo – from drums to Michael Jackson – was one of the highlights of the evening. Simply terrific.
The program, respectively the selection of the songs, was well done by Home Free, they
especially included many songs from the current album "Timeless" – that's also the name of this tour. So the fans enjoyed to experience live and sing along loudly to "It Looks Good" and "Timeless" – both original songs, as well as covers like "My Church" (Maren Morris) and "Man of Constant Sorrow" (Soggy Bottom Boys).
The concert ended with "Hillbilly Bone" by Blake Shelton, but of course the Munich audience didn't let Home Free leave the stage without an encore ("Love Train").
A very successful and by no means dignified evening in the Technikum ended much too early, but they promised to come back … well, we hope so!
To top it all off, Jeffrey East and Home Free signed autographs for the many fans – a nice gesture!